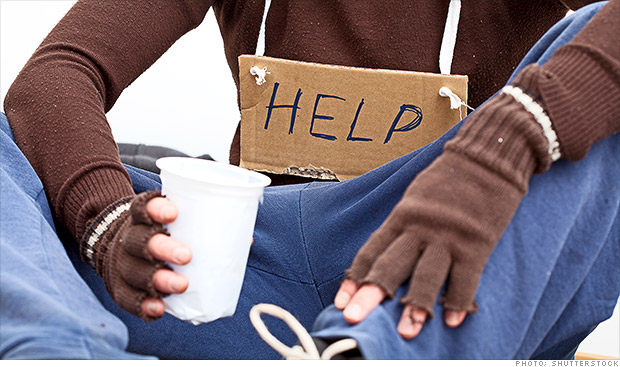 A handful of schools, aid organizations and advocates from across the country are taking steps to help homeless college students.
NEW YORK (CNNMoney)
As the number of homeless college students grows, schools, aid organizations and advocates from across the country are taking steps to help.
Getting into college itself can be a major challenge for homeless teens. And even if they're determined, resourceful or lucky enough to receive the financial aid or scholarship money that makes attending college possible, new struggles often arise.
While they may live in dorms for the majority of the school year, some students have nowhere to go during breaks and are forced to pay fees to stay on campus — which can be difficult or impossible to afford. Some of these students are too embarrassed to ask for help, while others are turned down when they ask to remain on campus, leading them to sleep outside, on friends' sofas or in shelters.
The issue has come into the spotlight recently: New legislation seeking to assist homeless college students was introduced last month, and a petition started by a student urging her college to allow homeless students to stay on campus during breaks has garnered more than 100,000 signatures.
After our recent article ran about this issue, CNNMoney received more than 60 emails from readers sharing their own stories of being homeless at college or asking how they can help.
Related: Homeless college students seek shelter during breaks
Here are some of the efforts being made.
Colleges and students step up: Kennesaw State in Georgia created a CARE Center this May, which helps students with needs like jobs, shelter and food. The school also hosts Homelessness Awareness Week, where students sleep outside for a night and can attend a full-day conference to learn more about the issue.
"Homelessness is affecting college students across the nation; yet it remains an underserved and/or unrecognized population," Kennesaw said in a statement. "KSU aspires to be a leader for social justice and change by eradicating homelessness on its campus."
After a survey of students two years ago revealed that nearly 7% had experienced or were currently experiencing homelessness while enrolled, the Community College of Denver decided to take action. It designated a housing expert in its student life department who helps homeless students with housing needs, and has established a food pantry and an emergency fund for those in need.
Related: Pay $2,000 to be homeless
Meanwhile, West Virginia University launched a food bank in 2010 called "the Rack," for homeless or financially struggling students.
"[It] went from a wire shelf with canned goods to a full-blown food bank with six freezers, as well as meat distribution days and much more," said alumni Ben Dotson, who helped …read more
Source: CNN Money – Personal Finance